Roots & Branches: DJ Marc "Mista-B" Bayangos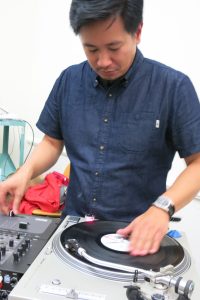 "Next Level lets me be who I'm supposed to be"
In this series, we look at different ways that Next Level's influence endures, often long after the residencies are over. How do the seeds that we have planted take root and grow? In previous posts, we have discussed how Next Level has influenced artists' attitudes towards education, technology, community building, social healing and developing a culturally sensitive approach to professionalism in the arts. This time, we speak with deejay Marc "Mista-B" Bayangos about the relationship between deejaying and collaborative education.
Raised in a deejaying family in San Francisco (Marc's older brothers were part of the Bay Area's Mobile Deejaying scene in the eighties*, and were also b-boys). Marc himself went on to become a Disco Mix Club (DMC) and International Turntablist Federation (ITF) champion, before becoming heavily involved in DJ Instruction in after school programs, youth centers, and hosting various workshops.
Later, as an integral member of Team Bosnia & Herzegovina/Montenegro in the first cycle of Next Level, Marc was one of the first deejays to participate in one of our residencies, and he thus helped to define that role for future participants in the program.
As a result of these experiences, he developed a deep understanding of the conceptual connections between education and deejaying. In the simplest terms, the goal of both is to make people feel comfortable enough to open themselves up to new experiences and points of view.
In the context of deejaying, this means knowing how to play the right music for that specific group of people in that time and place. "One thing I really found is that you have to be about everybody. Working together, you kind of have to take a step back," Marc observes. "For me as a deejay, you had to learn how to contribute to a group, knowing that my members might have a different kind of experience with deejays, too. In terms of deejaying, I definitely have to be adaptable to different audiences."
In the context of education, the process is surprisingly similar, except that the group is experimenting with ideas rather than dance moves. So it makes sense to combine hip-hop and education; in both cases, the key is to be sensitive to individuals' points of view and figure out how to connect those perspectives to larger cultural or intellectual traditions.
In fact, he says, this is one of the things that really sets Next Level apart from other educational experiences he's encountered. It respects what hip-hop has to offer conceptually. "Seeing hip-hop that's taken seriously in an academic institution is really meaningful for a hip-hop artist that's in education. Because I work in education. I tried to do a little hip-hop deejaying and production course. And it's hard to get resources. On top of that, it's hard to get people to take you seriously. There's a whole lot of levels of framing you have to do, in terms of just working within a certain system. But I feel like Next Level really lets me be who I'm supposed to be, if I'm teaching hip-hop. So it gives me hope."
Creating a structure that supports participants ability to "be who they are supposed be" is also the basis for Next Level's hip-hop diplomacy. In spite of cultural or political differences, people know that they are seeing each other's authentic selves in the context of hip-hop.
In this case, Marc was able to connect with Bosnia's DJ Zlijay on the basis of their common commitment to deejaying. "We just kind of vibed off of each other," Marc recalls. "He liked a lot of stuff I liked. We went to see him deejay live on one of our off nights, and all of us had a good time. He can just hold down long segments of music on his own. He's a really dope deejay. I enjoy his mixes and his selection choices."
In fact, Zlijay wound up coming to the U.S. as part of the first Next Level Team Global, where he was able to perform and build relationships to other international hip-hop artists from Serbia, Bangladesh, Zimbabwe, Senegal and India.
Years later, that friendship not only endures, but it has served as a connection for others as well. "I still keep in contact with him. We share files and stuff. He'll send me links to music and I'll send him some music, too. Whenever I hear of someone going to Bosnia, I'll tag them on Facebook: "Hey, hit up Zlijay! And, from what I know, a couple of connections have been made…"
Follow Mista B on Facebook at https://www.facebook.com/DjMistaBsfc/, on Twitter at @DJ_Mista_B, or on Instagram at https://www.instagram.com/dj_mista_b/.
…or check out some of his DJ Mixes at http://bit.ly/2HxMhvd
*For more information about the often-overlooked Bay Area Mobile DJ scene, check out http://legionsofboom.com.